Have you ever tried hosting an online giveaway? Are there clear benefits? Should you host a giveaway?
Well, if you are a brand that's looking to increase website traffic drastically, then yes!
Big brands often use giveaways to boost website traffic. And with those same giveaways, they increase social media followers, engagement, build email lists, get referral sales, and more.
A single giveaway campaign over a short period of time can drastically boost website traffic, social media followers and email subscribers.
In this post, I'll show you how to get started with your own (successful!) giveaway.
What Are Online Giveaways?
Giveaways or contests are promotional campaigns that give the public a chance to win a prize. A brand sponsors the prize, people submit their entries, and a winner is selected at random.
Traditionally, giveaways were hosted at physical stores, on TV shows, and in magazines and newspapers. These days, anyone from a large company to an SMB to a solopreneur can successfully host their giveaways on the Internet, either on a website or on social media – like this one from @mobkitchen: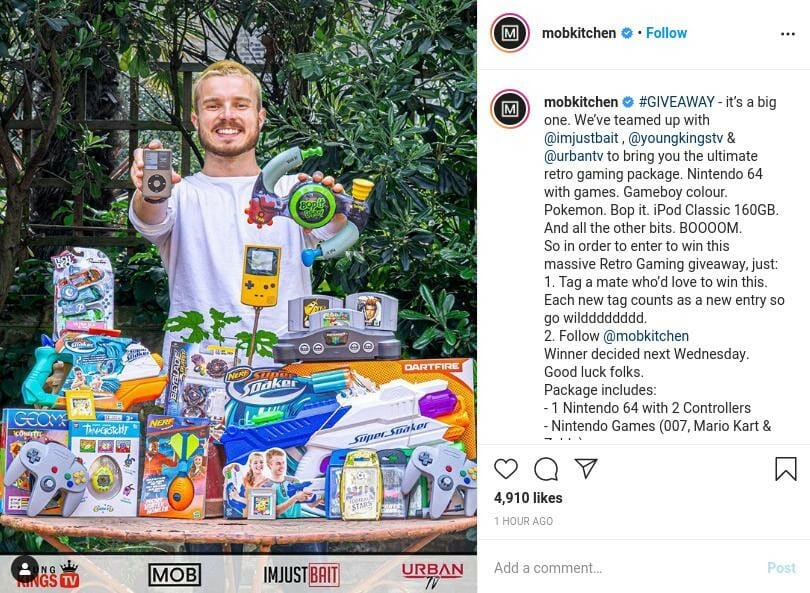 And this one from @coconutbowls: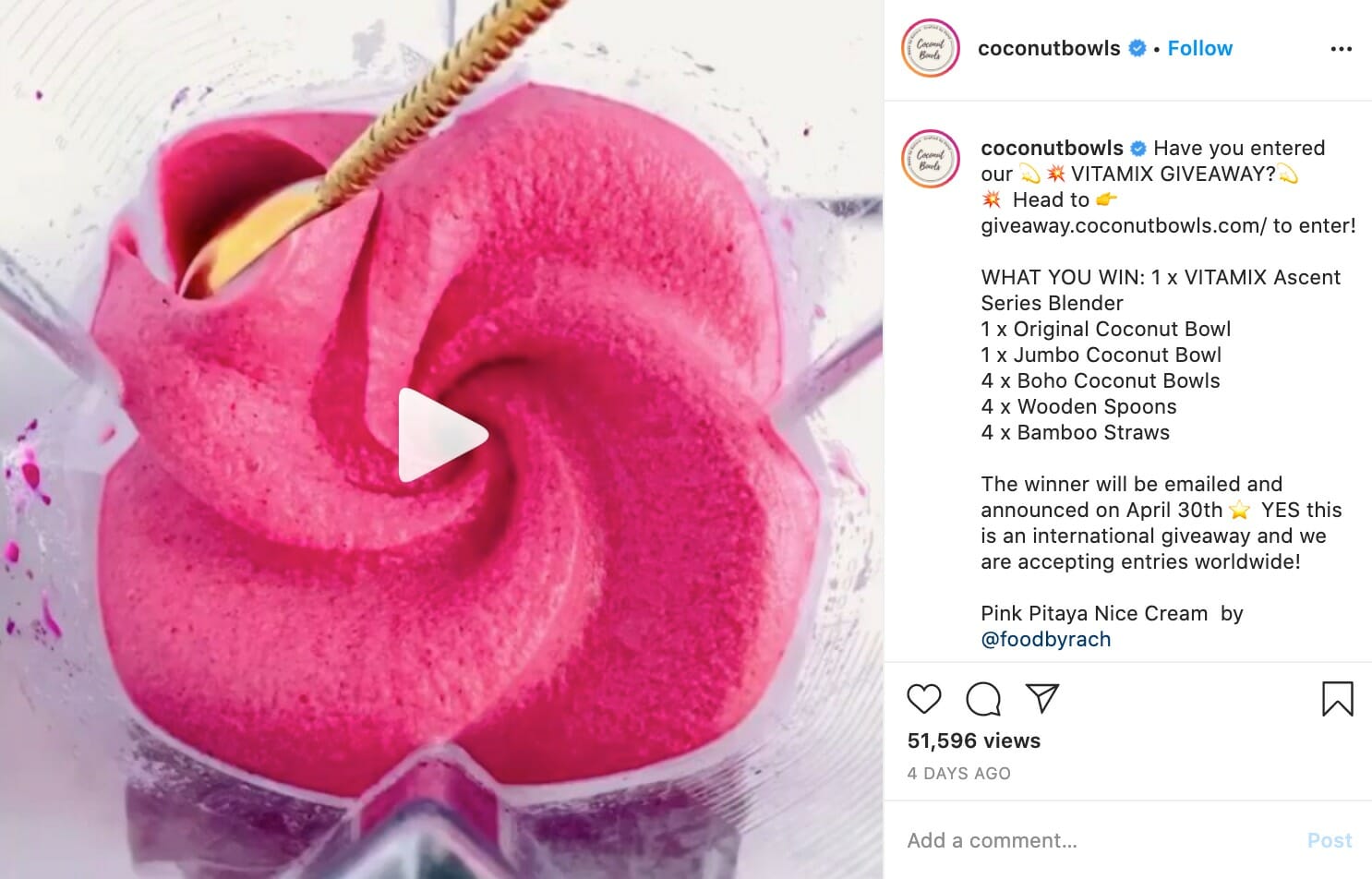 Modern companies use social media to build their brand and online presence, and hosting a giveaway on their social channels allows them to gain many more followers and increase engagement on their posts.
With a social media contest, you can easily engage a large audience just by creating a post for your giveaway because users who come across it in their feed will interact with it by commenting, liking or sharing it. Create a stunning image or video that includes your brand name, the giveaway prize and the deadline. Visually appealing social networks like Facebook and Instagram are ideal platforms for hosting a contest.
However, you can also host your giveaway on your own website. You'll just have to promote it on social networks so that more people will know about it. Post something like: "Visit my website to enter the giveaway and you could win big!"
Dive Deeper:
* The Impact of Social Media on Business in 2020
* How to Increase Website Traffic through Social Media
* 10 Effective SEO Techniques to Drive Organic Traffic in 2020
How Do Giveaways Boost Website Traffic?
The beauty of a giveaway is that it can serve multiple purposes, such as:
Build email lists
Increase sign-ups or app downloads
Boost website traffic
If you want to build an email list, then you can request that users supply their email address in order to gain entry to your giveaway.
To boost website traffic, there are two options:
Host a giveaway on your website
Use bonus actions (such as "do [action] for X number of points in the giveaway")
Hosting a Giveaway on Your Website
If the entry form for your giveaway is on your website, then obviously people will have to visit your site to enter.
You can promote your giveaway on various platforms (social media, email, etc.), which direct people to your site in order to enter. Voila! Instant traffic boost.
Domino's Pizza announced their giveaway on Facebook in which the prize was a year of free pizza (talk about a compelling prize!) and included a link in the description to the giveaway entry form. Anyone wishing to enter had to go to their website. As an added bonus, Domino's Pizza also managed to generate a massive amount of engagement on the giveaway announcement post (2.4K likes, 945 comments and 427 shares):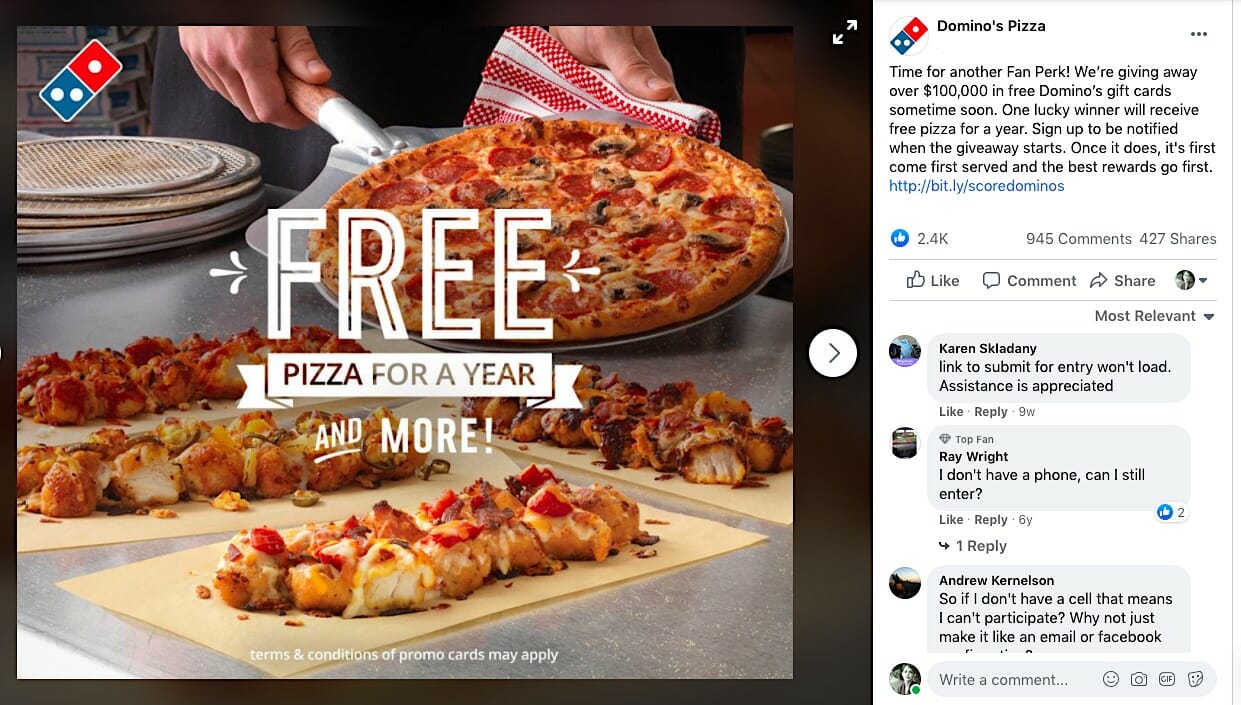 This is how you use a giveaway as leverage to boost website traffic and social media engagement.
You can also create a chatbot on your website that informs incoming visitors about the opportunity and ask them to participate. It's a great way of engaging newcomers and encouraging them to stay longer on your page and hand over their email address.
This is probably the most straightforward way of setting up a giveaway that will boost website traffic.
An alternate method is the bonus action….
Giveaway Bonus Actions
It's all good and well to use a giveaway just to build your email list or boost website traffic. But what if you want to get more out of it?
With bonus actions, entrants can complete additional tasks ("actions") to earn points: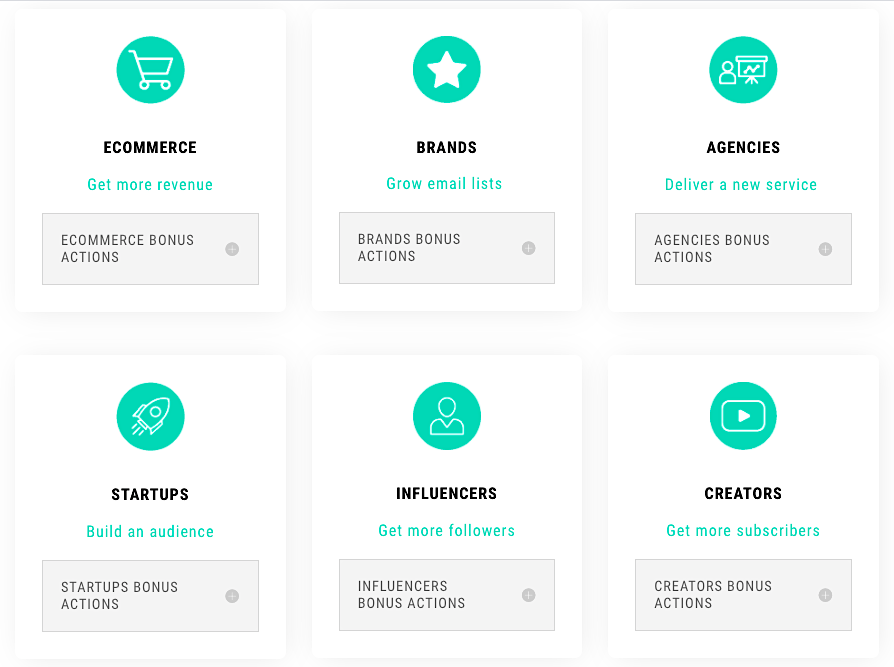 Once a person has submitted their giveaway entry, there is nothing left for them to do – unless you give them additional tasks to complete on the "thank you" page.
The thank you page is where users will be redirected once they have successfully completed their giveaway entry. It might look something like this: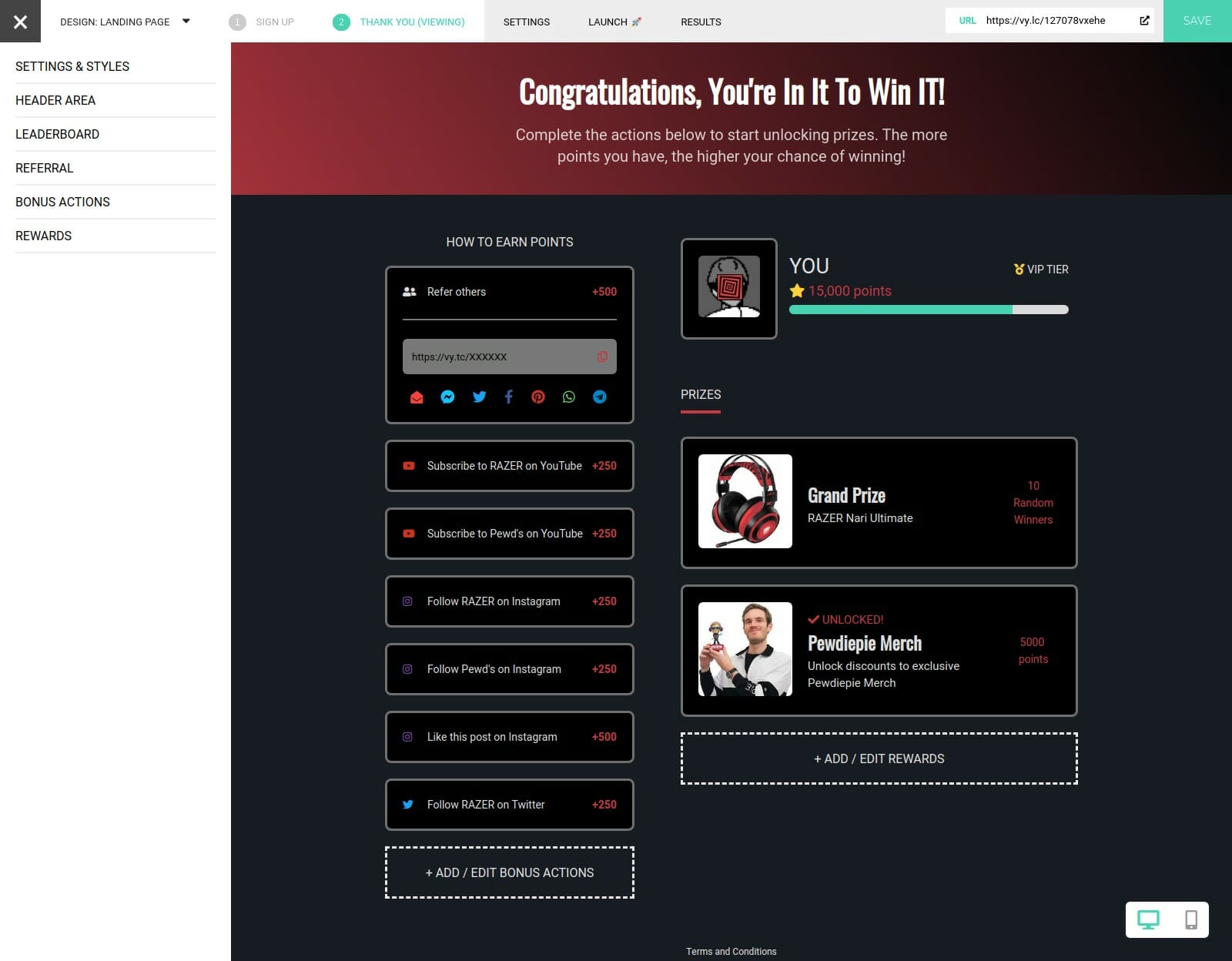 Now that the user is "in it to win it", the thank you page will give them options to perform tasks in order to earn bonus points.